Commitment
GEZE is supporting Stuttgarter Zeitung's 'Kinderzeitung'
GEZE GmbH is supporting Stuttgarter Zeitung's Kinderzeitung (children's newspaper) project. The Leonberg-based family business is funding 12 issues of the Kinderzeitung each year for five primary schools in the Stuttgart region. The Olga children's hospital, which GEZE has been supporting for many years now, is receiving the same number of issues for its young patients.
A colourful education for primary school children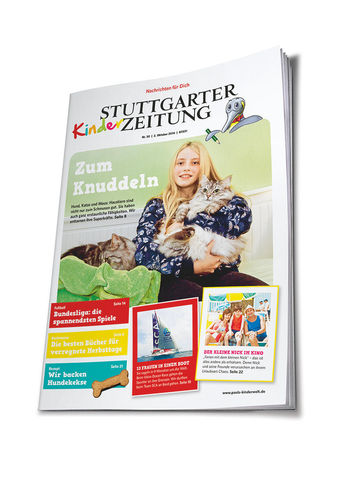 Copy of the Stuttgarter Kinderzeitung © Paavo Ruch für die Stuttgarter Zeitung
The Kinderzeitung presents and explains news from around the world and the Stuttgart region in a child-friendly way. The colourful array of information for primary school children includes tips on things to do in their free time as well as lots of games and activities.
"This great project by the Stuttgarter Zeitung shows that learning and having fun don't have to be two different things – quite the opposite," says Brigitte Vöster-Alber, Chief Executive Officer of GEZE GmbH. High-quality early years education is key to a child's future development. It's something that we're delighted to be supporting."