Topics
Building safety – protecting people and assets
Making a building safe is a complicated task. Increasing safety demands and certain laws and regulations must be observed. Add to this insurance company requirements and the complexity of the technical possibilities. A prudent safety concept ensures that as little as possible 'happens'.
What are the risks of building operation?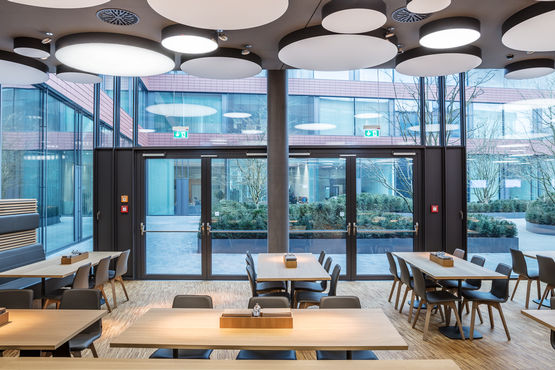 Emergency exits with a panic bar open by physical pressure. © Jürgen Pollak / GEZE GmbH
Every building is different. Just like the people who use it. And the goods that are manufactured or stored there. The risks and hazards thus also differ. Anyone who is responsible for the safety of a building need to consider all the risks and protection goals in an analysis. A safety concept for the building takes legal provisions and insurance requirements into consideration.
The security measures for special buildings such as public buildings, kindergartens, industrial buildings, office complexes, high-rise buildings, hotels, shopping centres, schools, as well as hospitals and nursing homes are different from those for private buildings. It also always depends on how many people are in the building, whether they have restricted mobility and whether they are familiar with the building.
Potential risks
Fire/explosion
Electrical and mechanical faults
Hazardous substances
Espionage/sabotage
Burglary
Burglary/vandalism
Raid
Safety concepts for buildings – what does it mean?
A safety concept includes all preventive or damage-reducing measures tailored to the needs, demands and protection goals. These are mainly fire protection measures, emergency exit protection, smoke extraction systems, access control and burglary protection. The safety concept for the use of the building must be aligned with the organisation's overall safety concept and updated regularly - especially when changes occur in the use of buildings, for example following organisational changes.
Doors as the most important aspect when it comes to building safety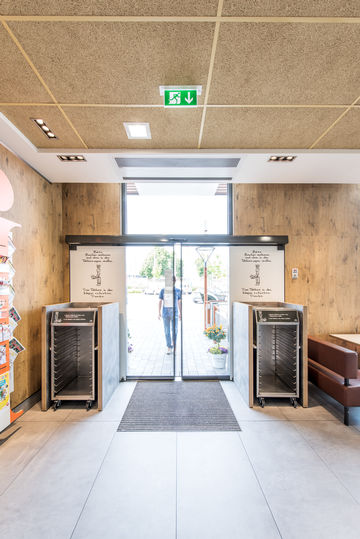 Important for building safety: multifunctional door © Jürgen Pollak / GEZE GmbH
Doors can serve as building access, emergency exits and protected connections to other rooms with different functional areas. They have an important job to do in terms of building safety. They also meet other technical demands in terms of fire protection, sound insulation and accessibility.
As a result, automatic doors in particular have developed into complex systems with intelligent drives. Multifunctional doors fulfil the following functions:
access control
fire and smoke alarm
escape door control system
Protection by sensors, e.g. presence and movement detectors

If the door systems are integrated into building automation or building management systems, their operating status can be displayed and controlled remotely.

GEZE door solutions for your safety
GEZE offers high-performance safety solutions for automatic door drives. These are adapted to the respective specific demands and individual escape route concepts - from the door control unit as a stand-alone solution to system solutions that combine individual safety demands in an intelligent system. Individual safety concepts result in optimal solutions.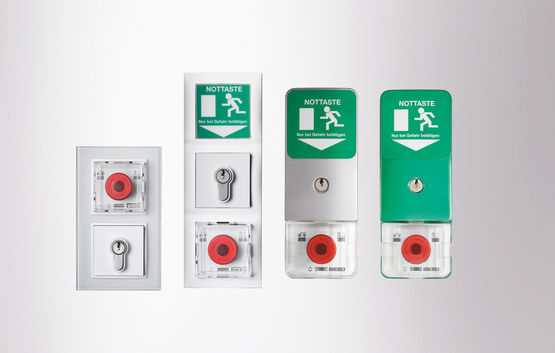 Part of the GEZE emergency exit system: GEZE TZ 320 door control unit
GEZE emergency exit systems
The GEZE emergency exit system is a complete and reliable system solution, especially for public buildings such as hospitals, schools or discotheques. In the event of fire or panic, it provides personal and fire protection as well as building safety. Various GEZE system components work together here: e.g. automatic door drives, door closers, motor locks and escape door electric strikes as well as fire or danger alarm systems and access control systems. The TZ 320 door control unit serves as the 'brain'. The emergency exit system complies with the EltVTR (Directive on electrical locking systems for doors in rescue routes).
Panic locks
Self-locking panic locks provide uncompromising safety for both people and property in the event of an emergency. On the one hand, people must be able to leave a building in a matter of seconds to flee danger. On the other hand, owners and operators need to protect sensitive areas from unauthorised access.
GEZE offers self-locking panic locks (IQ locks) for this purpose. They ensure insurance-compliant locking, protection against burglary and controlled access, but also quick opening in an emergency.
GEZE access control systems
As compact, web-based 'all-in-one' system solutions with all the components relating to doors, the GEZE access control systems satisfy the demands of modern identification systems. GEZE access control systems can be used for single doors as well as for networked door systems. GEZE access control systems are adapted step-by-step to the size and the demands of the safety concept.
The simple operation ensures the GEZE access control system is also suitable for private homes. Access control at the front door, bell signalling, sabotage monitoring or electric strikes make private buildings safer and protect privacy.
GEZE building technology management system
With the building system, system solutions for door, window and safety technology from GEZE can be integrated into building safety and control. A central control and visualisation system monitors various automation components in the building and offers security through many different networking possibilities: It ensures safe smoke and heat extraction (RWA), closes off fire sections, opens rescue routes or controls access.
It takes over the simultaneous monitoring of
automatic door systems
door closers on fire and smoke protection doors
window drives for smoke and heat extraction (RWA) as well as for daily ventilation
emergency exit systems and panic locks
third-party products (e.g. light controls)
Modern door, window and safety technology from GEZE in the new ABUS KranHaus
GEZE door systems with increased burglar resistance
GEZE safety doors make life difficult for burglars. They protect building entrances with more stringent safety demands (component resistance class 2). The transparent appearance of the systems is maintained regardless of the RC2 functionality.
Go to the burglar-resistant GEZE sliding door system
Go to the GEZE burglar-resistant automatic revolving door system
Support in the planning of building safety
GEZE supports the planning of new buildings and advises on the aspects to be considered with regard to building safety. Individual wishes and situations are taken into account as well as relevant industry specifics. We know the technical guidelines, regulations and standards that must be taken into account during construction. Standards and regulations change regularly, making it difficult for 'non-experts' to keep track of everything.
GEZE can also provide support for specialist planning, e.g. when it comes to accessibility and fire protection planning for a building.
All-round service for the implementation of building safety
In addition to providing advice, GEZE also installs the solutions for the customer. The customer benefits from continuous planning, conversion and service from the same partner.
GEZE service tools help building technicians handle and configure automatic door systems so that they can configure settings faster and easier.
Go to the GEZE customer portal
The WinCalc 2.0 calculation program for window drives takes over the complex calculations for the system design of windows and outputs all applicable drive solutions. It enables the calculation of manual and electromotive ventilation windows, RWA windows and NRWGs, as well as the design of appropriate emergency power control units.
Always at the cutting edge of safety technology
Even after completion of the project, GEZE supports you with various service packages. Service and maintenance contracts ensure long-term building safety.
Downloads
You can download information material and GEZE product catalogues as PDF files here.