Expert door planning – from streamlined to technically complex
Accessibility, fire protection, escape routes, access control, hygiene: different demands and functions make door planning a complex task for architects and planners. When involved early on in the process, our GEZE experts can help you avoid planning errors and unnecessary costs.
The importance of expert door planning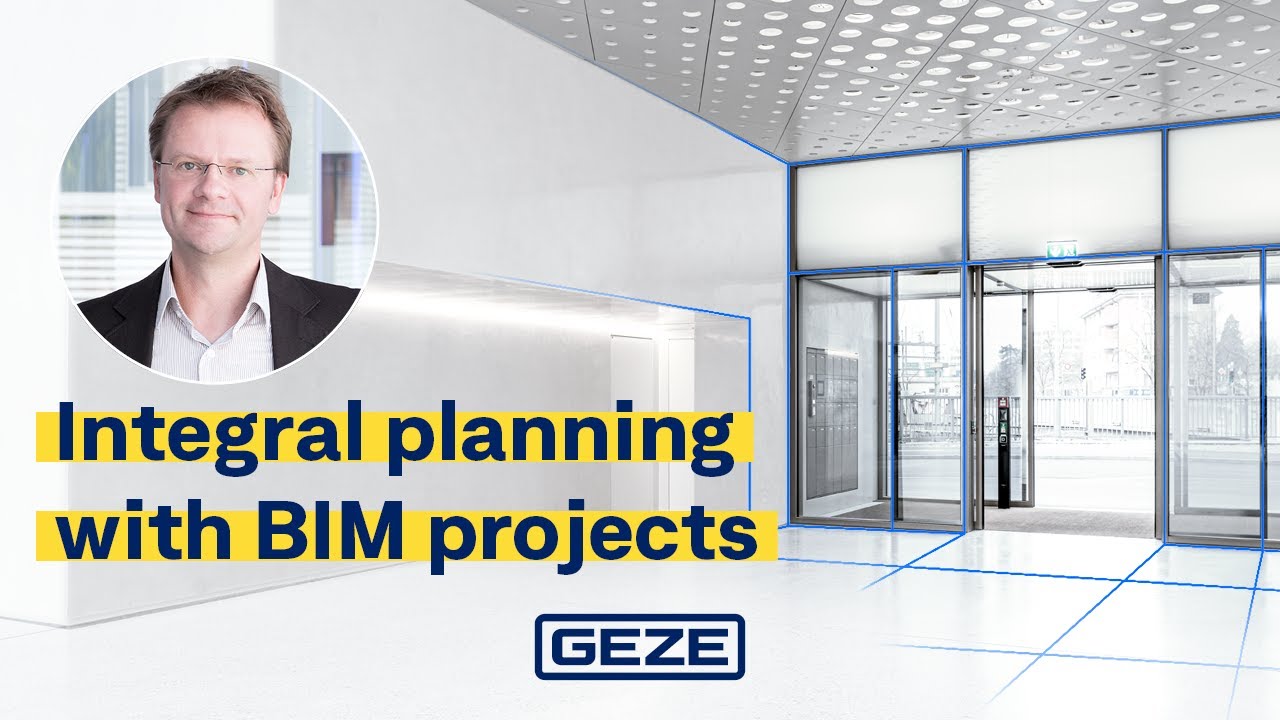 Integral planning with BIM projects
The days when architects or planners could simply write something like "entrance door, painted white, matte" in a building specification are long past. Today, doors have developed into multifunctional systems. This has been driven primarily by increasing demands for security and protection. However, digitisation also contributes to this new complexity, with its diverse options for networking buildings and integrating everything into the building management system. In general, the higher the demands, the more complex the door will be – and the associated technical work needed.
Because of this, involving specialists in door planning early on in the planning process is essential. This is the only way to avoid unnecessary planning gaps that could later lead to conflicts, and can often be rectified only with additional coordination effort and expense. In the worst case, incomplete planning would concern a fire protection door with no absolutely option of subsequent adjustment.
Door planning ensures smooth integration of systems
Expert door planning clarifies the purpose of the doors, bringing all the product groups together and coordinating them to allow for the seamless integration of different systems. This ensures that the numerous customer-specific and statutory specifications for the door, and the functions necessary to implement them, can be combined in the smartest way possible. In addition, good expert planning thinks ahead and takes preliminary set-ups into account that will allow for changing usage demands later on. It's not uncommon for a seemingly 'normal' door, for example, on closer examination to turn out to be an emergency exit that has to stay open, but then close automatically in case of a fire, and also have to fulfil all accessibility needs. All of these issues can be solved with early planning, and can ultimately even save costs.
Tasks and responsibilities of the expert planner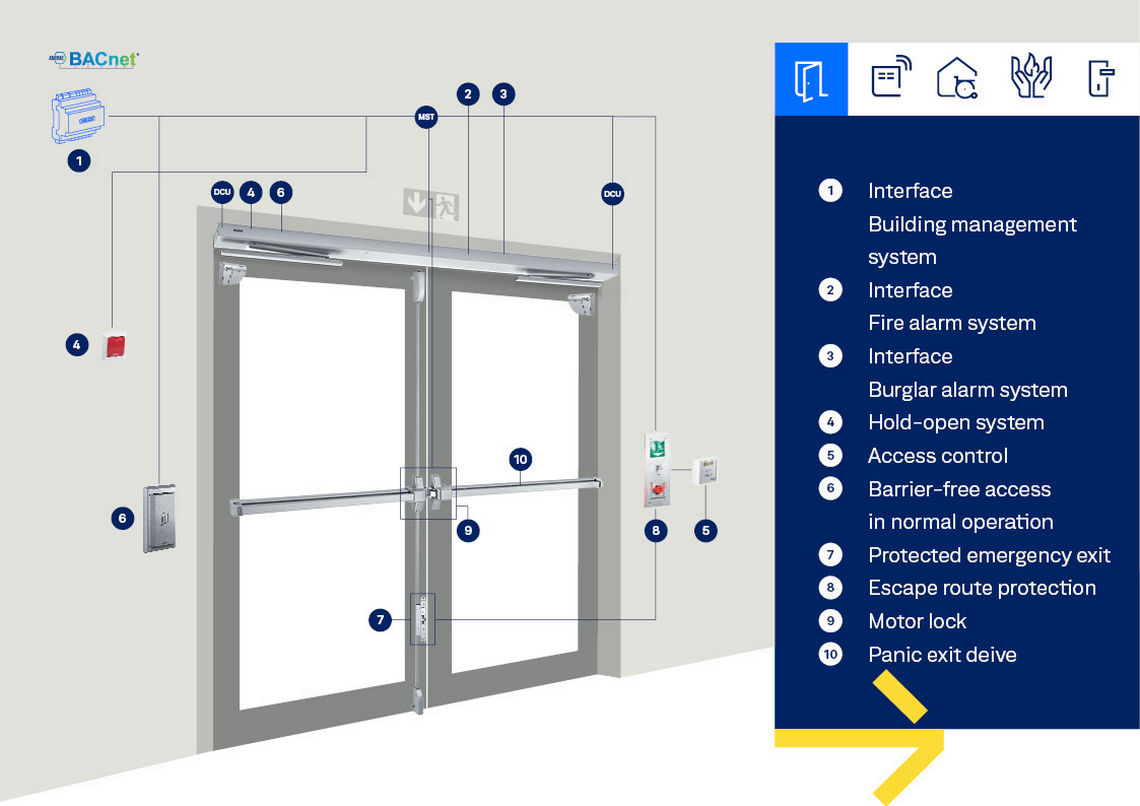 Often, a single door can have multiple safety demands, with associated sensors, push buttons and equipment. This makes expert door planning challenging.
The buildingSMART competence network has made a list of how many parameters a door could theoretically have. The organisation collected an impressive 4,500 parameters that cover all variants and combinations. Of course, in practice a planner would never describe all of these parameters since many components or variations simply would not apply to the doors being planned. Only basic information is needed for door planning, for instance, in smaller administrative buildings with relatively simple demands. However, even these doors might have approx. 30 parameters, with information on width, height, type of opening, door fittings, colour, or material. In larger projects, such as an entire clinic with around 3,500 doors, there could be significantly more than 150 parameters that have to be entered and updated. All of this shows that expert door planners are faced with a complex task that demands a precise process. This is the only way to ensure that they don't forget anything on the way.
Typical expert door planning process
Interactions and contradictions in door planning
Expert door planners have to do more than just take a wide range of different demands into account. The interactions between different demands, which can sometimes result in contradictions, also represents another challenge. An expert planner involved in the process at the right time can offer a comprehensive perspective, identify overlaps between functions, set the right priorities and coordinate the process with the product groups concerned.
One typical contradiction, for instance, are simultaneous demands for noise protection and accessibility. Sound insulation usually needs heavy doors with multiple sealing levels. Often, such doors are not barrier-free because of this, as opening and closing them takes a large amount of force. Or smoke and heat extraction system fresh air versus fire and smoke protection: While smoke and heat extraction systems open doors, fire and smoke protection needs closed doors.
There is also a seeming contradiction between 'fire protection and accessibility"'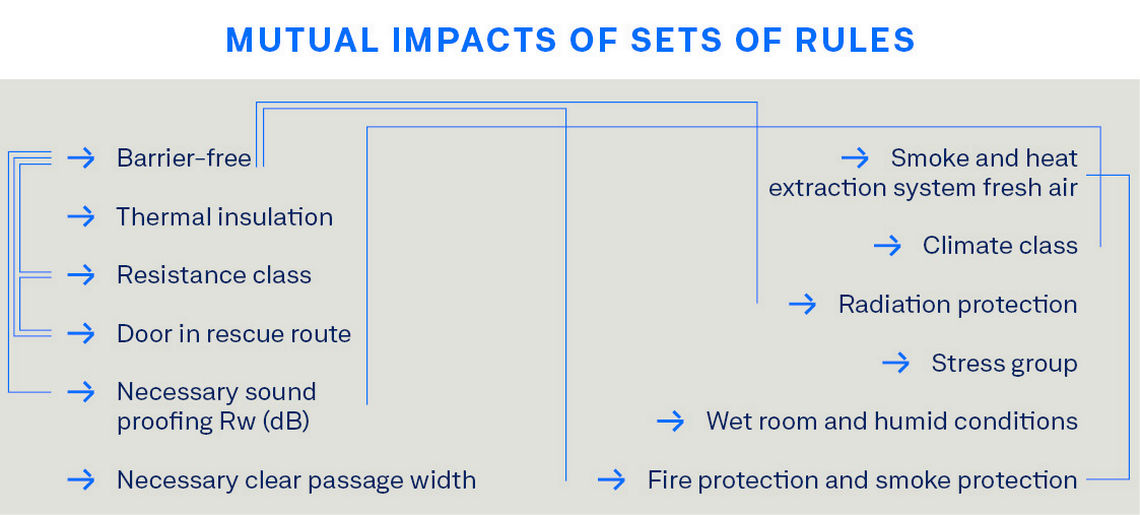 In some cases, expert planners are called on to reconcile contradictory needs and functions.
Door lists for systematic door planning
Door lists have become an established practice for door planning in large building projects. These include precise information on the location, installation situation, geometry, material properties, design and necessary technical equipment for each individual door. Door lists describe all significant properties and specifications; these do not apply to all doors in the building project, but rather differ from door to door. These include, in particular:
Dimensions, including opening width, opening direction (left hand door or right hand door).
Specialised needs, such as sound insulation, fire protection, escape route, burglar protection, radiation protection or climate class
Material, surfaces and the design of the door leaf and frame
Details on the lock and door fittings, as well as additional components like door closers, hold-open systems or door automation.
Door lists can be used to systematically record all features. But beware: this tool doesn't help with the feasibility of implementing the doors in the context of the building. Here too, experienced door planners come into play.
Expert door planning is a complex task, and is inseparable from expert planning of other product groups. Such interfaces have to be defined early on.
Günther Weizenhöfer, Team Leader of Pre Sales Development
Effective door planning with BIM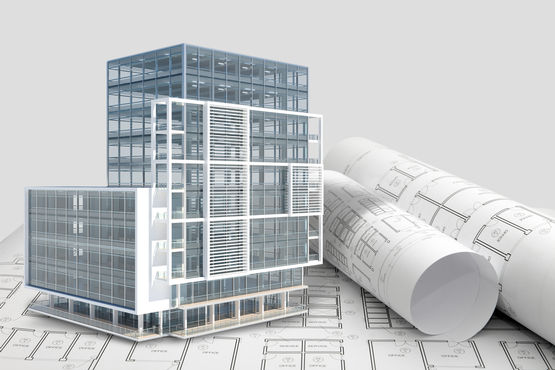 BIM makes complex construction projects more cost-effective and efficient
Building Information Modeling (BIM) is the future for digital and interdisciplinary collaboration. BIM allows all the product groups to work together in one digital model, a digital twin, and use all data together. Everyone involved in the building life cycle benefits from this: from the investor, architect or expert planner, to the installation engineer, system producers and product manufacturers. BIM is also ideal in expert door planning. Prompt coordination with expert planners in other product groups is the key to translating all the demands into practical functions. In addition, this allows everything to be planned efficiently, key information to be linked and functions to be tested in the context of the entire building technology before they are implemented in practice. Last but not least, it also facilitates precise predictions for the construction and life cycle costs of a building right from the start of the building plan.
We have developed BIM door objects as an extremely useful tool for expert door planning. They are based on results from the work of the door group at buildingSMART. In addition, we have compared a wide range of existing meta data with official door lists. As a result, our BIM objects are also perfectly suited to international projects. You can download GEZE BIM objects free of charge and integrate them into your CAD system.
Download GEZE BIM door objects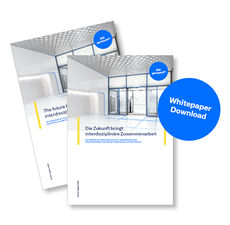 BIM White paper from GEZE
To learn more about building planning with BIM, download our free white paper!
Expert door planning
Thanks to our many years of experience with multiple projects in a wide range of sectors, we can offer you individual support in expert door planning. We are proud of our expertise, which extends not only to doors, but also to their impacts on all aspects of building management. As a comprehensive solution provider, we can combine a range of different needs, functions and product groups together with you, keeping relevant standards and guidelines in mind.
GEZE project consultancy
GEZE supports architects and planners in door planning, providing them with all the information they need on our product solutions. Our colleagues can support you, for instance, in creating door lists, integrating BIM objects, and much more. If necessary, we can also provide tender texts, architect catalogues, and specialist information. We can also support you early on in the planning phase.
Global Account Management
No matter where in the world your building is, our Global Account Management can support decision-makers and investors in long-term planning worldwide. As a pioneering partner, we offer solutions-focused and customer-oriented products and services. In collaboration with our regional GEZE teams, who take the standards and regulations of each country into consideration, we serve as a central contact person during the entire building life cycle.
Comprehensive advice for installation companies
GEZE offers advice when installing our products. We provide comprehensive installation-related information and video-material. In addition, we provide regular training on the professional installation of our door and window solutions (basic knowledge and installation).
Quick help
Door and window solutions are complex, especially if things do not function as they should. Here too, you can rely on GEZE as a partner. GEZE Service offers quick assistance and solutions, and the support of service contracts as well as immediate help. Our large global team is ready to help.
GEZE also offers numerous tools to support door planning.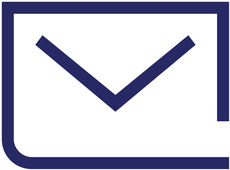 We offer individual solutions
Haven't found the right product solution for your project in our standard portfolio? No problem: GEZE can customise existing products to meet your needs, or develop new products for specific customers – custom-tailored to your project. Whether for your swing door or sliding door, or for your window or for comprehensive building safety – we will work with you to find the right solution.