Topics
Fanlight openers: Light and air from above
We need light to feel well. Fanlights meet this need by directing daylight from the roof or external walls deep into the building via ceiling reflections. In addition to the lighting function, they also provide good ventilation of the room.
More light thanks to the use of daylight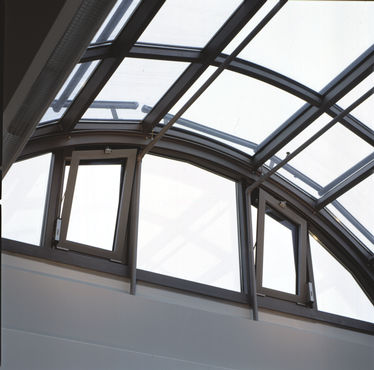 Glass façades and fanlights: they should open in high temperatures.
Architecture has been working with an increasing focus on light in recent years - and rightly so. Daylight has a direct influence on our wellbeing, yet we spend most of our time inside buildings. The conclusion is to provide more daylight in buildings.
Architects and building planners have recognised this. Daylight can be increased with the use of fanlights, for example. Fanlights are used to provide rooms with daylight from above. In the construction sector, the term fanlight refers to horizontal or inclined glazed openings in the roof. The term is also used for vertical windows at the top end of the external wall.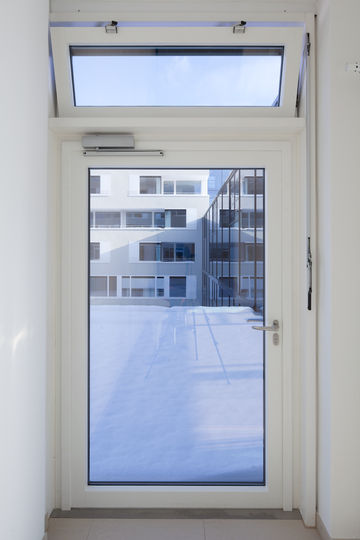 Doors with fanlights: a closed door which still lets in plenty of light.
In a narrower sense, fanlights are windows which are located above a door, or above the leaves of façade windows, or which are located at the top of external walls or glass façades. In German, glazers also call these camphor windows (Kämpferfenster). This is because they were held by camphor wood in older structures, a horizontal crossbar between the upper area of a window or a door and the active leaf below this.
This type of vertical glazing is also designed and used with natural light in mind. Fanlights above doors are used to bring daylight from outside into the building entrance behind them, or to direct light from rooms into a corridor. Fanlights in windows make the overall window opening higher. Light is guided deep into all rooms - even larger ones - via the ceiling reflections so that less artificial light is needed. Since the fanlight is built-in, the window leaves do not need to be excessively large.
Fanlights improve safety in schools
Fanlights are often used in schools or sports halls, where they make a significant contribution to the safety of users. Their position means that there is no chance of careless or dangerous opening - it would be extremely unlikely like someone could fall out of or bump into a fanlight, and there is no risk of entrapment due to the height. No one is blinded by solar rays in sports halls. Comfortable ventilation can be provided at any time as needed, however.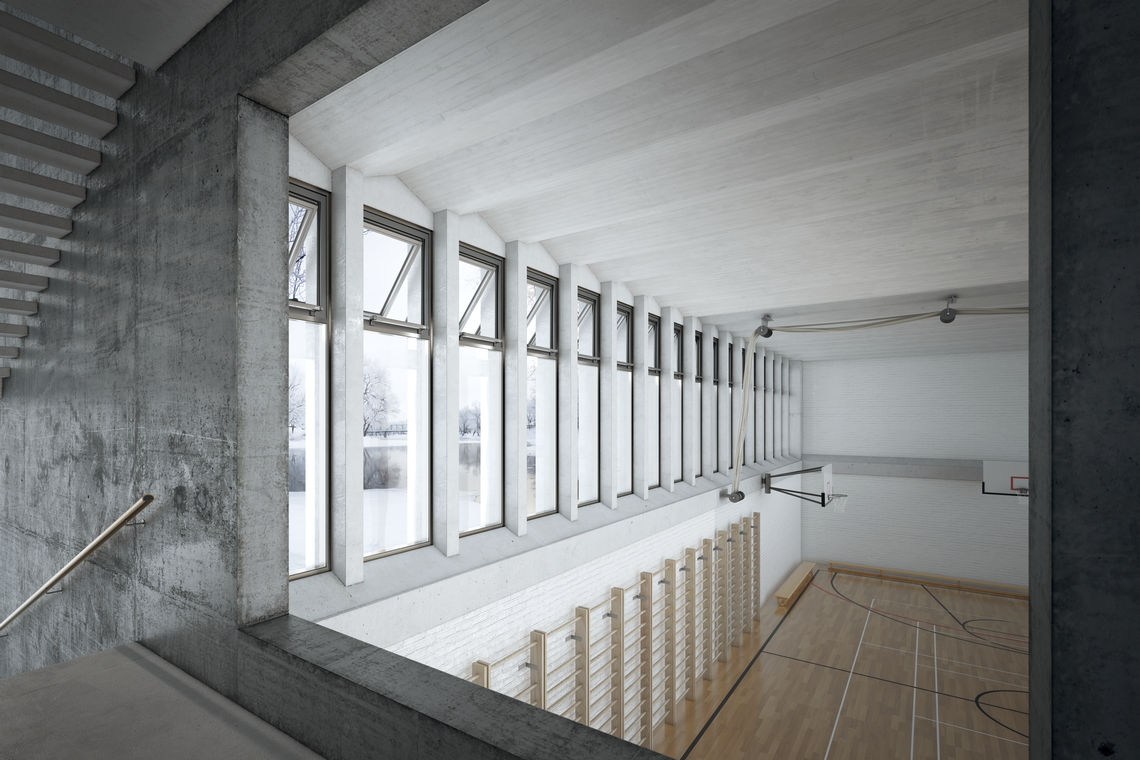 Hazard-free ventilation: fanlights in a school sports hall.
Advantages of fanlights
A comfortable indoor climate is created via ventilation and air extraction, without any draughts.
Daylight enters deeper into rooms, and rooms become lighter.
Their position and limited opening angle increase safety.
Fanlights can be optimally used for creating emphasis in the façades, since they are available in many designs and fitting variants.
Automatic and manual fanlight openers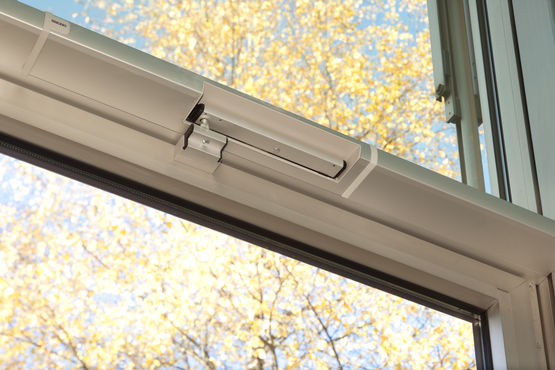 Attractive design: GEZE E 170 scissor drive for fanlight openers
Fanlight windows can be opened or have fixed glazing. To guarantee simple and safe operation, fanlights are equipped with special window hardware, or more specifically fanlight openers. They fold down or tilt the fanlights outwards or inwards. They work manually via push-rods, for example, which are operated by hand levers or crank rods. Alternatively, fanlights can be opened automatically by electric drives.
GEZE fanlight opener: suitable for all uses
Manual GEZE fanlight opener systems, in the form of inward opening bottom-hung or top-hung leaves and outward opening top-hung windows, work easily and reliably for daily ventilation. They can be applied to many types of frames (wood, plastic or aluminium) and for many forms of windows (rectangular, inclined, triangle, round or segmental arch windows). Operating elements like hand levers or crank rods allow for flexible adjustments and convenient operation of many different window shapes and installation situations.
Manually operated fanlight openers can be combined with GEZE electronic drives. This makes the windows power-operated, i.e. automatically opening fanlights. The drives open the fanlights for ventilation, with switches for easy operation. This means that several windows, or even large and heavy windows, can easily be opened at the same time.
Fanlight opener systems by GEZE
They leave façade designs unaffected, since the flat scissor design and the bar assembly require only a minimum amount of space.
They assure optimal ventilation and air extraction via an opening width of up to 320 mm.
They can be used for comfortable, daily ventilation.
They are easily and reliably opened, either manually or electronically.
They also open wide and heavy leaves.
They can be used with any material (wood, plastic or metal windows) and various window forms (rectangular, inclined, triangle, round or segmental arch windows).
Downloads
You can find GEZE brochures on the topic of fanlights available for download as a PDF here.
Discreet window technology for timeless architecture.
Fanlights let lots of daylight in, creating beautiful lighting within a building. To prevent the appearance being compromised, GEZE offers various fanlight opening systems - in both manual and automatic versions. These can be almost invisibly mounted onto window frames. We put together application-specific solutions according to the window type.
Through controlled and optimised ventilation, automated windows can also contribute to improving the energy efficiency of a building.
GEZE provides advice and support for building planning.
Very easy to use and fit
GEZE fanlight opener systems are characterised by their ease of use and installation. GEZE also offers support through installation, and can provide installation instructions for clients.
Safety through maintenance
Regular servicing and skilled maintenance of automatic systems are essential to ensure long-term personal and operational safety.
GEZE offers tailor-made service contracts for all buildings. Retrofitting of fanlights is also possible. We are happy to advise you on this and support you with our experience in your projects.