Wireless extensions
FA GC 170 wireless KIT
*
Set comprising GC 171 wireless module and GC 172 wireless ceiling-mounted smoke detector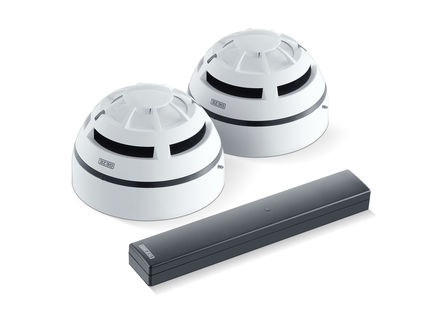 No cable connection needed between lintel-mounted detector and ceiling-mounted detector or manual trigger switch
Simple coupling of the wireless components
Mixed installation (wireless/wired) possible
Low servicing costs due to long battery life of five years
Contact us
Set comprising GC 171 wireless module and GC 172 wireless ceiling-mounted smoke detector
Application Areas
Installation in listed buildings without structural changes (cable routing)
Retro-fitting or extension of existing systems
Installation situations in reference objects and videos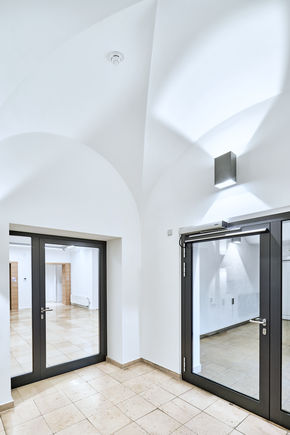 FA GC 170 - Wireless extension
The new GEZE wireless kit allows you to wirelessly connect the ceiling-mounted detectors and the manual trigger switch to the lintel-mounted detector on all GEZE hold-open systems. It's easy to retrofit. Because separate cable-laying is no longer needed. This makes planning much easier, in particular in listed buildings. © Annika Feuss / GEZE GmbH
FA GC 170 - Wireless extension
The new GEZE wireless kit allows you to wirelessly connect the ceiling-mounted detectors and the manual trigger switch to the lintel-mounted detector on all GEZE hold-open systems. It's easy to retrofit. Because separate cable-laying is no longer needed. This makes planning much easier, in particular in listed buildings. © Annika Feuss / GEZE GmbH
EN | Fire protection | RSZ 7 + FA GC 170
// RSZ 7 The new RSZ 7 smoke switch control unit has an adjustable telescopic function and is therefore a flexible solution for early detection of fires even in unfavourable lintel situations, for example where there is little room left over the smoke chamber. // FA GC 170 The GEZE FA GC 170 wireless extension connects the ceiling-mounted detector and manual trigger switch wirelessly with the lintel-mounted detector of GEZE hold-open systems.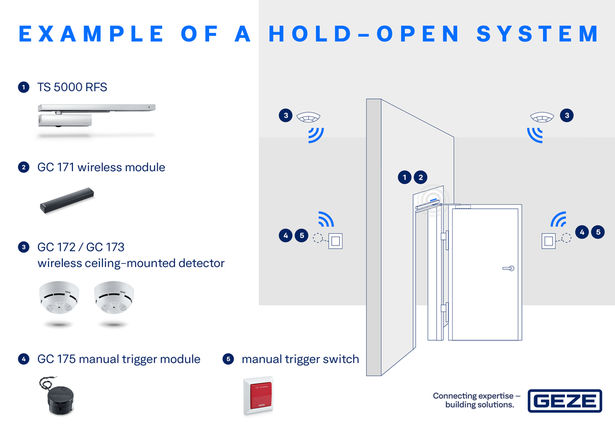 FA GC 170 - Example of a hold-open system
The new GEZE wireless kit allows you to connect the ceiling-mounted detectors and the manual trigger switch to the lintel-mounted detector on all GEZE hold-open systems wirelessly. It's easy to retrofit. Because separate cable-laying is no longer needed. This makes planning much easier, in particular in listed buildings. © GEZE GmbH
GEZE| wireless extension FA GC 170| configuration
The GC 171 wireless module makes it possible to connect components for hold-open systems such as ceiling-mounted fire detectors and manual trigger switches to the hold-open system. This means that no separate cables need to be connected to these components. Teach-in is demonstrated with the wireless module GC 171, a wireless ceiling-mounted smoke detector GC 172 and a wireless input module GC 175 for a manual trigger switch.
Magdeburger Cathedral
Wireless extensions for hold-open systems of GEZE © Stefan Dauth / GEZE GmbH
Technical data
| | |
| --- | --- |
| | FA GC 170 wireless KIT |
| Area of application | Inside |
*

Notice about the products displayed

The products mentioned above may vary in form, type, characteristics and function (design, dimensions, availability, approvals, standards etc.) depending on the country. For questions please contact your GEZE contact person or send us an E-Mail .