Commitment
GEZE supports the Leonberg volunteer fire brigade
The Leonberg volunteer fire brigade is an indispensable part of the community in Leonberg. Over 300 active volunteer members provide round the clock cover to ensure that help is provided as quickly as possible in the event of an emergency. GEZE GmbH thanks the Leonberg volunteer fire brigade for this commitment by making regular donations.
Donations for the safety of Leonberg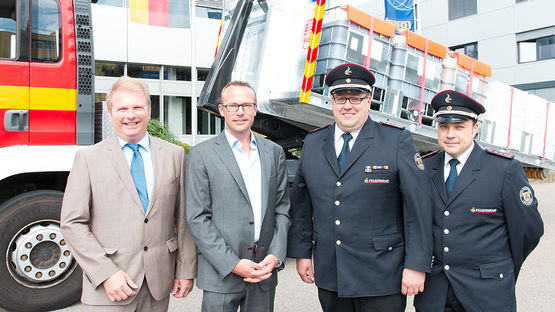 Presentation of the new special extinguishing agents swap body on 3 August 2016
Everyone knows 112? When there's fire or other emergency, we all expect the fire brigade to turn up immediately when we call this emergency number. To ensure this can happen, there are over a million fire-fighters operating throughout Germany.
In Germany, the first professional and volunteer fire brigades were formed back in the middle of the 19th century Today, the volunteer fire brigades are still an integral part of our system, and ensure safety in many communities throughout Germany – including in Leonberg.
Perfect equipment for trouble-free operations
GEZE supports the Leonberg volunteer fire brigade by providing regular donations. This support enables the volunteer fire brigade to buy the equipment that it needs. For instance, a donation of €10,000allowed a new fire engine to be fitted with a Chiemsee effluent pump which ensures water is pumped out particularly efficiently in the case of flood call-outs and flooded cellars.
In 2016, GEZE donated a special new extinguishing agents swap body to the Leonberg volunteer fire brigade. "Modern, reliable equipment is essential in ensuring that everything works smoothly in an emergency. Thanks to the new swap body, we now save at least half an hour in loading the special extinguishing agents – which significantly reduces the amount of fire damage. So we're absolutely delighted to have received this help from GEZE," says Wolfgang Zimmermann, commander of the Leonberg volunteer fire brigade.
And in 2015, GEZE made its Leonberg premises available to practise a major fire-fighting operation. The team of fire-fighters tested their skills on a burning lorry in the new production hall.
GEZE partners the fire brigade
GEZE GmbH has been based in Leonberg for over 50 years In the early years of the company, founded in 1863, a works fire brigade safeguarded the site, but this is now the responsibility of the Leonberg volunteer fire brigade.
We are extremely grateful to the members of the Leonberg volunteer fire brigade for their selfless work.
Marc Alber, GEZE's Managing Director of Technology
For GEZE, supporting the volunteer fire brigade – not just financially – makes sense. For instance, GEZE also lets its employees who volunteer for the local fire brigade take part in fire brigade call-outs during company time. The volunteer fire brigade depends on such support from companies because this the only way it can provide a daytime response. In recognition of this commitment, GEZE has been appointed as an official 'Partner of the fire brigade' by the Leonberg fire brigade.