Case Studies
Automatic door closers enhance luxurious ambience at The Retreat Hotel on Iceland's Blue Lagoon
For many people, Iceland's world-famous Blue Lagoon is a place they long to visit – and The Retreat, the luxury hotel that sits atop the lagoon, is no different. This prestigious project is highly significant for Iceland: it blends Scandinavian architecture with breathtaking natural beauty, with each detail painstakingly crafted to give guests a sense of connection with the rugged Icelandic landscape.
Teamwork: Scandinavian design and GEZE's convenient door solutions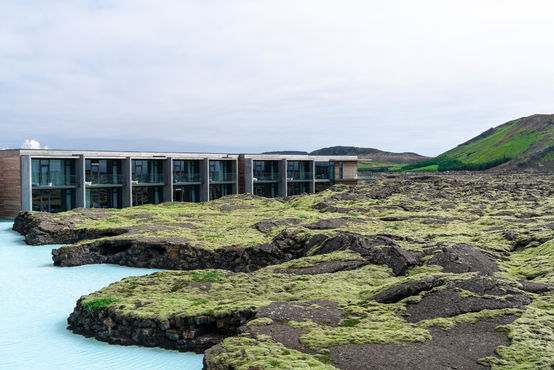 Striking architecture in a striking landscape: The Retreat at the Blue Lagoon in Iceland. © The Retreat at Blue Lagoon Iceland
The hotel's high standards of design and convenience are evident in even the finest detail. These standards never waiver, including in the automatic door drives, manual sliding door rails and door closers. For this reason, the hotel's designers opted for smart door solutions from GEZE. Consequently, no matter their weight, material or location, the hotel's doors open and close conveniently using sensors and buttons, ensuring that guests can move freely throughout the building. All automatic GEZE door drives are sleek, feature an elegant design, and blend perfectly with the Scandinavian architecture. GEZE's long-standing Icelandic partner Járn & Gler hf planned and implemented the door systems.
GEZE door systems welcome guests to this luxury hotel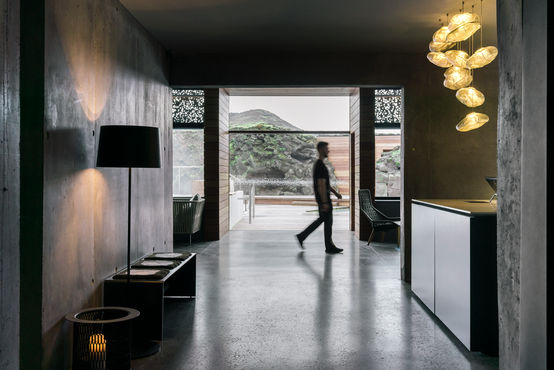 Seamless transitions: GEZE door technology connects indoor and outdoor spaces. © The Retreat at Blue Lagoon Iceland
For hotels, distinguished yet convenient entrances are often the first opportunity to welcome guests. Automatic doors to kitchens and other areas also facilitate safe working, accessible spaces and smooth, seamless service. The Retreat, a luxury hotel in Iceland, is no exception. In addition to a high degree of functionality, outstanding design was the other key requirement for the hotel's door solutions.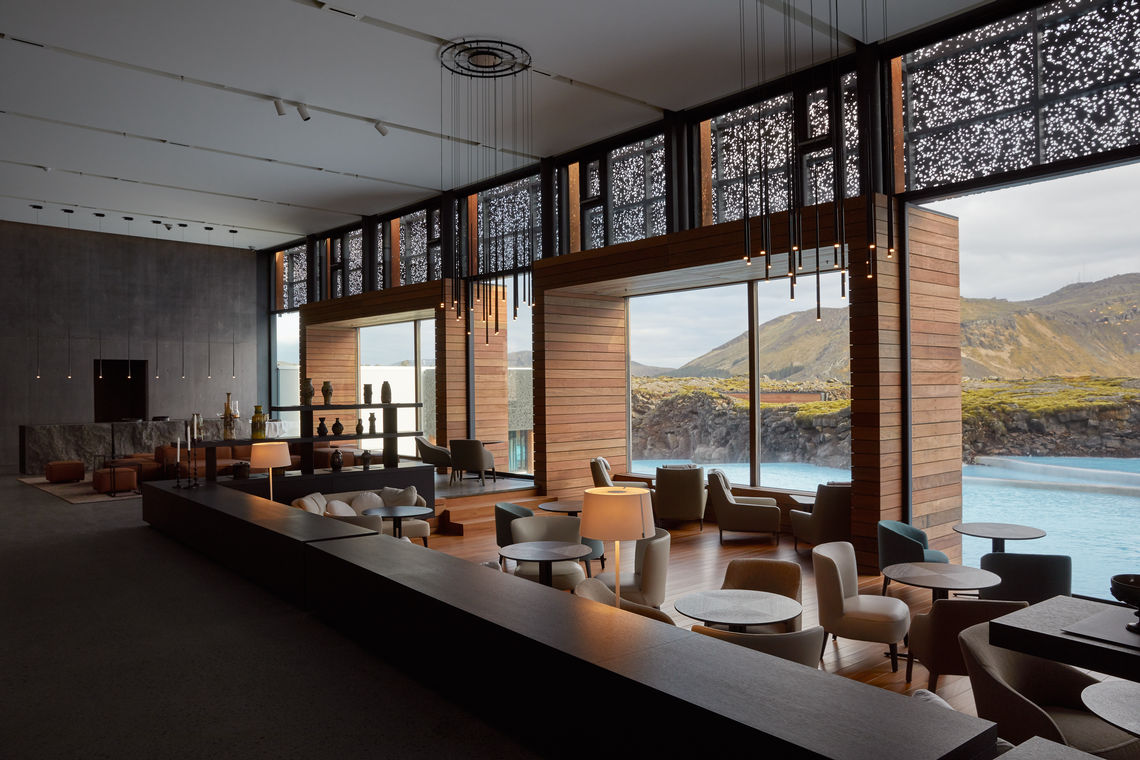 The lobby offers Scandinavian design and breathtaking views over the Blue Lagoon. © The Retreat at Blue Lagoon Iceland
Convenient, reliable and discreet: integrated sliding doors
During construction of the hotel, it was essential that all elements blended together seamlessly to create an architecture and interior design in complete harmony with the volcanic surroundings of the Blue Lagoon. Consequently, all of the hotel's doors – even the heaviest glass doors weighing up to 150 kilograms – open and close quietly with an air of elegance. Moreover, most sliding doors are fully integrated in the wall, thereby hiding all automatic drive systems and door frames.
Hiding all the mechanical door drives was no small task, as some of the doors are up to 4 metres long. However, the entire team worked together to find aesthetically pleasing, creative solutions. The door drives from GEZE fulfil all the complex requirements of the hotel's architecture.
Jón Halldór Davídsson, Sales Manager at Járn & Gler hf.
The benefits of GEZE automatic door systems at a glance
Our automatic door systems
... ensure that doors are accessible and convenient for all users.
... feature a premium, discreet design and blend seamlessly with the architecture.
... facilitate safe working in food service settings and smooth service operations.
... meet the strictest safety standards in accordance with DIN EN 16005 and DIN 18650.
... are easy to integrate and network with building management systems.
... are suitable for fire protection doors and close automatically in case of emergency following a signal from a smoke detector.
High functionality thanks to building management integration
Modern luxury hotel The Retreat also scores highly when it comes to building automation. All door drives are networked with the hotel's intelligent building management system and fire alarm systems, thus providing added value for its safety and energy footprint. Central control and monitoring of smart door solutions improves the overall efficiency of facility management and helps to ensure that escape and rescue routes are kept clear and smoke-free – an essential aspect in case of fire.
The Retreat at the Blue Lagoon
The Retreat has been constructed atop an 800-year-old lava flow at the heart of the UNESCO Global Geopark on Iceland's Reykjanes Peninsula. The hotel complex features an underground spa, a geothermal lagoon, a restaurant and a 62-suite luxury hotel. The four years of development from the idea's inception to the hotel's opening in 2018 involved immense effort.
GEZE solutions at The Retreat at the Blue Lagoon
GEZE Powerturn swing door drive, installed for the main entrance door
GEZE Powerdrive drive system installed as a flush-mounted solution for the internal sliding entrance door, spa entrance door and spa tunnel door
GEZE ECdrive door drive for the sliding doors leading to the kitchens
GEZE Slimdrive EMD-F for the fire and smoke protection doors in corridors and on escape routes
GEZE TS5000 SoftClose and GEZE TS5000-ISM & E-ISM door closers for standard doors
GEZE Boxer and GEZE Boxer ISM & E-ISM integrated door closer systems
PERLAN 140 m sliding door fittings for manual sliding doors